Mw 7.1 HAITI on January 12th 2010 at 21:53 UTC

An earthquake of magnitude Mw 7.1 occurred on 12/01/2010 at 21:53 (UTC time), 16:53 (local time) in Haiti. More information on the main shock is available on the EMSC web site and from the USGS/NEIC.

The epicenter lies 15 km South West of Carrefour, 20 km South West of Port-Au-Prince.


The Caribbean nation of Haiti has been devastated by a very powerful earthquake, causing what is being described as a catastrophe of major proportions. The extent of the disaster is still unclear but there are fears thousands of people may have died and tens of thousands lost their homes. In the capital Port-au-Prince–a city of two million people–thousands of buildings were damaged or destroyed, including hospitals, schools and hotels. The United Nations headquarters was also reported to be severely damaged and many of its staff are reported missing.

Among the many destructions, the presidential palace and the Cathedral collapsed. Many schools, hospitals and hotels were destroyed. Electrical and phone cables have also been affected.

This event occurred in the complex tectonic region of the Caribbeans where several subduction faults are active. It is the largest event recorded in the last 200 years. In 1750 and 1771, Port au Prince was largely damaged. The largest event recorded in Haiti took place in 1984 with a magnitude of 6.7. In 2008, several events of magnitude 4 occurred in august and september leading to little damages.

The earthquake has been largely felt in the neighbouring Dominican Republic but as well in Eastern Cuba, about 300 km away. A tsunami alert was issued but was quickly canceled.
Answer our questionnaire

If you have experienced this earthquake, you are invited to answer the online questionnaire.

Your testimony will be useful to update our Macroseismic map (on the right) which maps the effects of the earthquake.



View the results of the questionnaires


Send us pictures or videos

If you were in the area and have taken photos or videos of earthquake effects (on buildings, ground, landscape), please send us your files. You can send them by email, MMS or upload them directly from your computer. Just click on the link below :
Send us pictures or videos of the main shock effects
Additional information
Emergency Response
In the frame of the GMES initiative (Global Monitoring for Environment and Security), SAFER project aims at implementing preoperational versions of the Emergency Response Core Service and to reinforce European capacity to respond to emergency situations: fires, floods, earthquakes, volcanic eruptions, landslides, humanitarian crisis.

SAFER web site proposes a web page dedicated to the Haiti earthquake. It provides several maps of the zone affected by the earthquake, location of affected public building, Damage assessment, Population overview, Pre-Disaster overview.
Make a Donation
Epicenter location and regional seismicity
| | | | |
| --- | --- | --- | --- |
| Figure 5: Epicenter Location | Figure 6: Moment Tensors Solutions | Figure 7: Past Regional Seismicity as from the ISC catalogue (1964-2004) and EMSC catalogue (2005-today) | |
Aftershocks locations

Loading, please wait...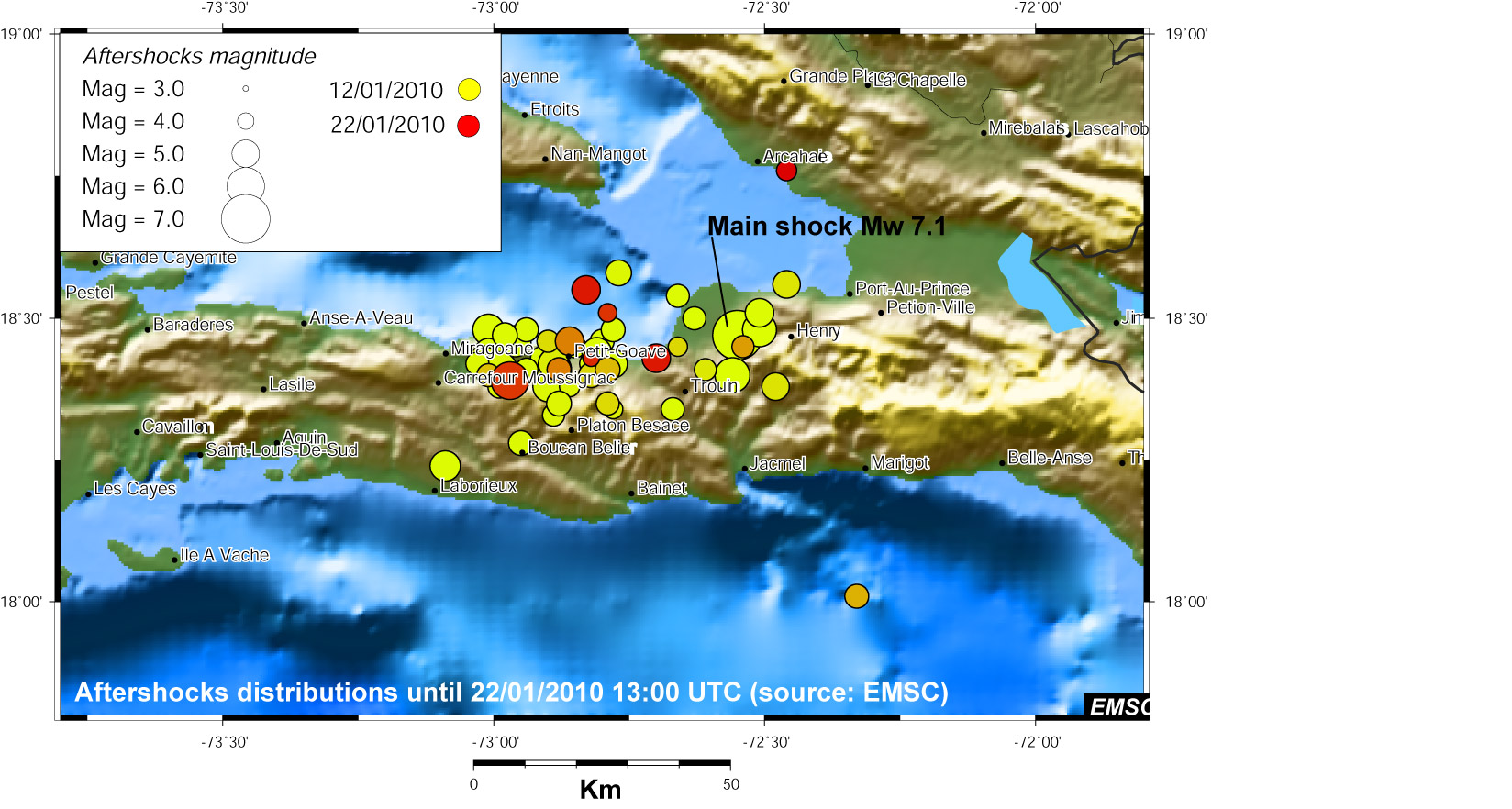 Aftershocks distribution from the main shock until 22/01/2010 13:00 UTC.
Aftershocks time distribution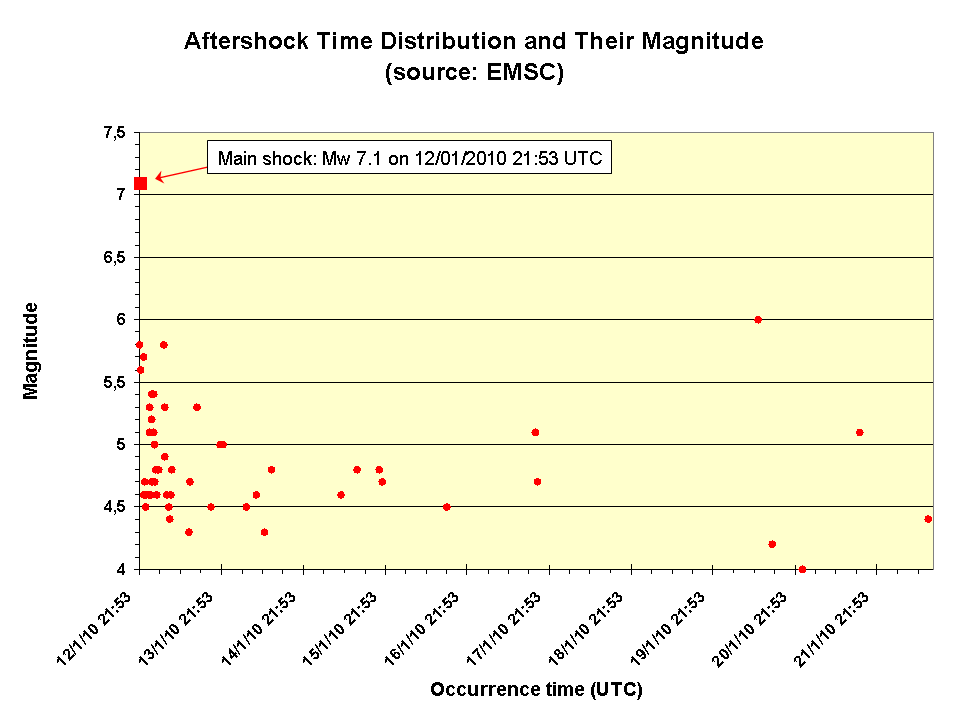 The number of aftershorks and their magnitude decrease with the time. Until 22/01/2010 13:00 UTC, 55 aftershocks of magnitude larger than 4.2 have been recorded by EMSC. They corresponds to 35 aftershocks of magnitude 4.0-4.9, 19 aftershocks of magnitude 5.0-5.9 and 1 of magnitude larger than 6.0.