Mw 6.0 Basyurt-Karakocan (Eastern Turkey) on 08/03/2010 at 02:32 UTC

An earthquake of magnitude Mw 6.0 occurred on 08/03/2010 in Eastern Turkey 02:32 UTC (04:32 local time) 74 km east of Elazig, 16 km south of Karakocan. This main shock was followed by a serie of aftershocks, the largest occurring on 08/03/2010 at 07:47 with a magnitude mb 5.5.

More information on the main shock is available here.

At least 57 people were killed in the region of Elazig. The village of Okcular, in the most affected area, has been experienced very severe damages to houses and mosques. The main shock and the following aftershocks have been felt in the neighbouring provinces of Tunceli, Bingol and Diyarbakir.

See the Earthquake Preliminary Report by Dogan Kalafat (Kandilli Observatory and Earthquake Research Institute Istanbul, Turkey)


More Information:


Aftershock Mag=5.0 on 24/03/2010 14:11 UTC:
Preliminary Report by Disaster and Emergency Management Presidency Earthquake Department (added on 24/03/2010)
Aftershocks locations

Loading, please wait...


Aftershocks locations until 09/03/2010 08:00 UTC.
Tectonic settings

The 8March. 2010 earthquake in Turkey occurred along the East Anatolian Fault (called "Faille Est Anatolienne" on the map), which accomodates the movement of the Arabian plate towards the Eurasian plates (see Figure below). Turkey is one of the most seismically active area of the Euro-Med region. The 2 big green dots on the map correspond respectively to the Izmit (17/08/1999) and Duzce (12/11/1999) earthquakes which occurred on the North Anatolian Fault (called "Faille Nord Anatolienne" on the map) and caused major destructions.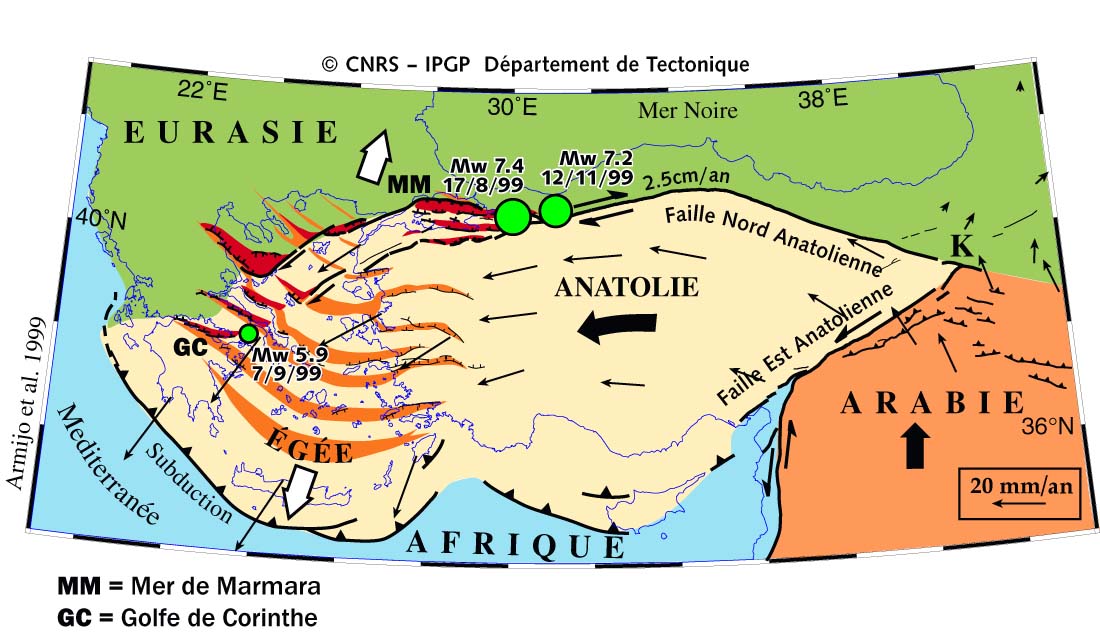 Armijo, R., B.Meyer,A. Hubert, and A. Barka (1999), Westward propagation of the North AnatolianFault into the northern Aegean: Timing and kinematics, Geology, 27, 267-270.

On May 1st 2003, an event of magnitude Mw 6.6 already shook the region of Bingol, about 30km only from the area affected by the March 8th earthquake. More information in the Note of the KOERI institute on the Bingol earthquake
Epicenter location and regional seismicity
| | | |
| --- | --- | --- |
| MainShock Epicenter Location | Past Regional Seismicity as from the ISC catalogue (1964-1997) and EMSC Real Time catalogue (1998-today) | Moment Tensors Solutions |