M 6.3 SOUTH ISLAND OF NEW ZEALAND on February 21st 2011 at 11:51 UTC
Last update: 13 April 2011 at 07:32 UTC
The February 21, 2011 South Island, New Zealand M6.3 earthquake occurred as part of the aftershock sequence of the M 7.0 September 3, 2010 Darfield, NZ earthquake. The February 21st earthquake involved oblique-thrust faulting at the easternmost limit of previous aftershocks, and like the mainshock itself is broadly associated with regional plate boundary deformation as the Pacific and Australia plates interact in the central South Island, New Zealand (source: U. S. Geological Survey). More information on the main shock is available here.
Since the September 3, 2010 mainshock, there have been approximately 6 M>=5.0 aftershocks in the Christchurch region. The February 21st earthquake represents the largest aftershock to date, more that half a magnitude unit larger than the previous largest aftershock (source: U. S. Geological Survey). More information on the September 3, 2010 event here.
For more information on this earthquake, visit the IRIS Teachable Moment Presentation, the USGS New Zealand Earthquake Information page or the GNS web page.
The epicenter of the February 21, 2011 magnitude 6.3 earthquake was just 5 km from Christchurch.  Because of proximity to the epicenter,  ground shaking in Christchurch was much more severe for this latest earthquake than for the larger magnitude 7 event in September 2011. The death toll has climbed to 103, while 228 people are still missing, the local police confirmed on Friday morning.
Displacement field
PALSAR interferometry and elastic dislocation modeling by the International Charter on Space and Major Disasters through the French "Cellule d'Intervention et d'Expertise Scientifique et Technique" (CIEST)
Aftershocks locations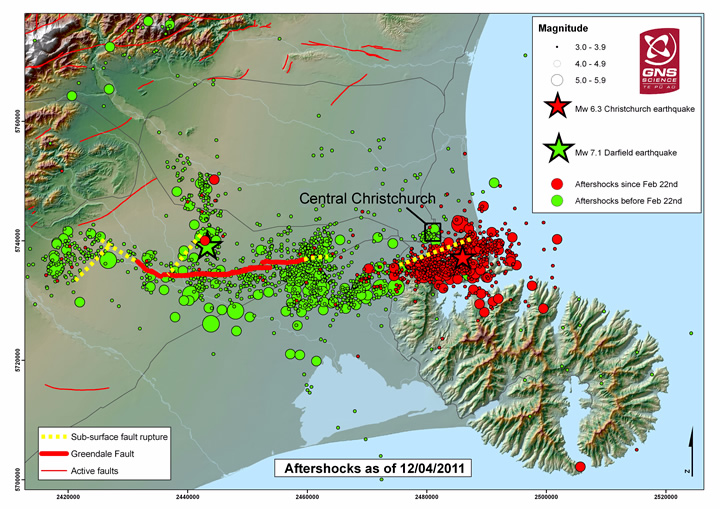 Source: GNS
Share your experience
If you have experienced this earthquake, you are invited to answer the online questionnaire. Your testimony will be useful to update the Intensity map, where intensities correspond to the effects of the earthquake.
Send us pictures or videos
You have taken photos or videosof earthquake effects (on buildings, ground, landscape), please send us your files. Send them by mail, MMS or upload them directly from your computer. Just click on the link below :

Send us pictures or videos of the main shock effects
After validation your files will be displayed on this page.
Main shock and region seismicity
| | | |
| --- | --- | --- |
| MainShock Epicenter Location | Past Regional Seismicity (ISC + EMSC catalogues) | Moment Tensors Solutions |