Mw 8.6 OFF W COAST OF NORTHERN SUMATRA on April 11th 2012 at 08:38 UTC
Last update: 16 April 2012 at 08:55 UTC
Earthquake details
An earthquake of magnitude Mw 8.6 occurred off coast of the Sumatra Island (Indonesia), April 11th 2012 at 08:38 UTC (15:38 Indonesian time). It has been largely felt in the region and as far as Singapore, Thaïland and India, leading to evacuation of the population. Power cuts occurred in Banda Aceh. At the time of this report, the damages are still unknown. More information on the main shock is available here.
A tsunami watch was issued by PTWC for the whole Indian Ocean region but there were no report of significant tsunami waves.
A significant aftershock of magnitude Mw 8.1 occurred at 10:43 UTC, 2 hours after the main quake and was also largely felt. If you have experienced this earthquake, you are invited to answer the online questionnaire.
In Decembre 2004, a M9.3 earthquake caused a devastating tsunami which killed 230,000 people in more than a dozen countries. The 2012 April 11th event occurred 300km South West of the 2004 event.
Tectonic settings
The April 11th earthquake is the consequence of strike slip motion related to intraplate deformation in the eastern Indian oceanic plate. This type of mechanism is not likely to generate powerful tsunamis. Its location in the Wharton Basin is 100km off the subduction zone were the Devastating 2004 event took place.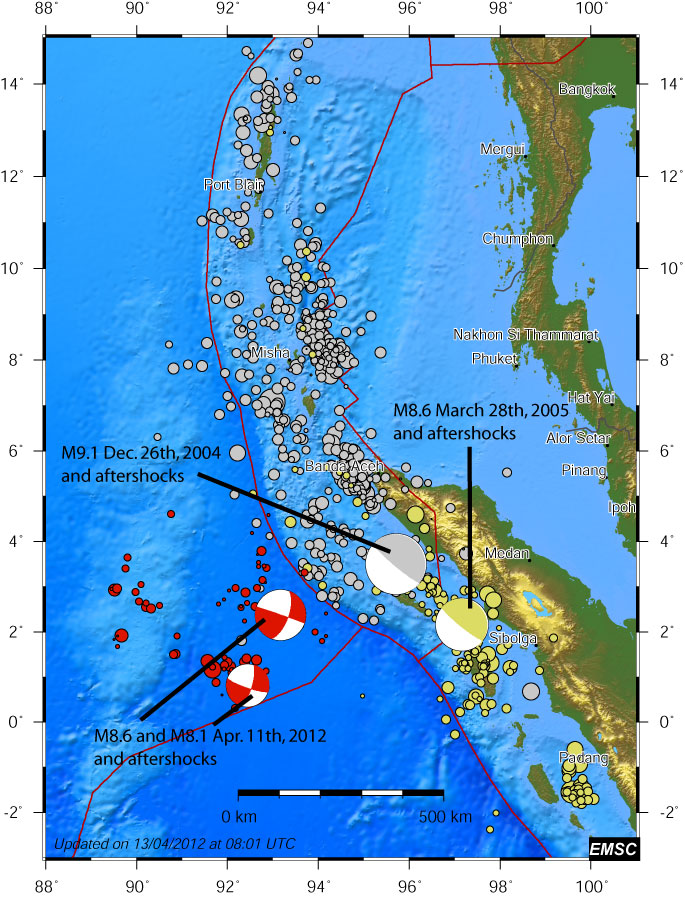 Earthquakes location distribution for the last major sequences in the Sumatra region
This map shows the different processes involved in the 2012 April 11th events (strike slip) and the
2004 & 2005 events (thrust)
More information can be found in:
Scientific articles
Preliminary source studies
Send us pictures or videos
You were on the spot and you have taken photos or videos of earthquake effects (on buildings, ground, landscape), please send us your files. Send them by mail, MMS or upload them directly from your computer. Just click on the link below :

Send us pictures or videos of the main shock effects
After validation your files will be displayed on this page.
Aftershocks locations

Loading, please wait...
Epicenter location
| | | |
| --- | --- | --- |
| Main Shock Epicenter Location | Past Regional Seismicity as from the ISC catalogue (1964-2004) and EMSC Real Time catalogue (2005-today) | Moment Tensors Solutions |