M 5.7 AEGEAN SEA on January 8th 2013 at 14:16 UTC
Last update: 24 January 2013 at 12:09 UTC
Earthquake details | Aftershocks locations | Intensity map
Send us pictures or videos | Epicenter location
Earthquake details
An earthquake of magnitude 5.7 centered beneath the Aegean Sea, approx. 100km SW of Canakkale, shook cities and islands in Turkey and Greece, causing panic in some areas but no injuries or damage, officials said. The shake was felt in Athens, Istanbul, Sofia and up to Southern Romania. 
A total of 173 aftershocks have been recorded in the 3 days after the earthquake. 64 of them have a magnitude >= 3.0 and 4 have a magnitude >= 4.0. They depict a nice NE-SW trend, consistent with the regional tectonics and with the moment tensor solutions (see below).
More information on the main shock is available here.
If you have experienced this earthquake, you are invited to answer the online questionnaire. Your testimony will be useful to update the Intensity map here below, where intensities correspond to the effects of the earthquake. You can also read the comments posted by people who experienced this event or view them on an interactive map.
Earthquake reports
Aftershocks locations

Loading, please wait...
Internet quake detection
When an earthquake is widely felt, people rush on the Internet to find out the cause of the shaking they have just been through. They then reach dedicated seismological websites such as the one of the EMSC, generating massive and immediate increase of the website traffic.
That is what happened after the M5.7 Aegean Sea earthquake of January 8th 2013 when the number of visitors of our website experienced a 15-fold increase!  (Figure 1). We detected the traffic increase 116s after the earthquake occurrence!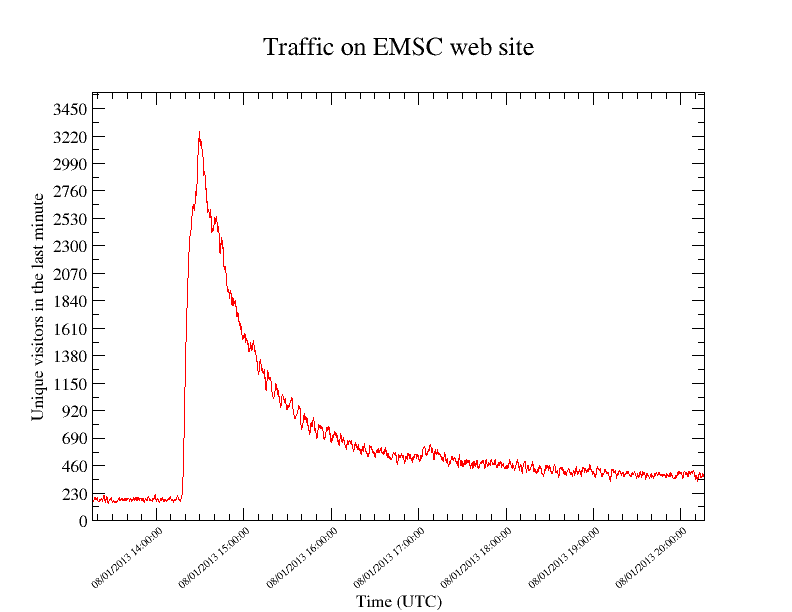 Figure 1
The traffic surge being caused by eyewitnesses, if we know where they come from, we know where the earthquake was felt. We then locate the IP (Internet Protocol) of our visitors (a big "thank you" to our partner Digital Element which offers this IP location service to EMSC), and after a simple statistical analysis, automatically map the localities where the traffic is abnormally high (in red on Figure 2). In this time animation, the circles shows the 2 types of seismic waves (P & S waves) propagating away from the epicenter (star). Just by looking at this map, we knew within a few minutes, and without any seismic data that an earthquake had been felt in Western Turkey, Greece and Bulgaria!
Figure 2
Intensity map
(generated with the results of the online questionnaire)
(click to enlarge)
Send us pictures or videos
You were on the spot and you have taken photos or videos of earthquake effects (on buildings, ground, landscape), please send us your files. Send them by mail, MMS or upload them directly from your computer. Just click on the link below :

Send us pictures or videos of the main shock effects
After validation your files will be displayed on this page.
 
Epicenter location
| | | |
| --- | --- | --- |
| Main Shock Epicenter Location | Past Regional Seismicity as from the ISC catalogue (1964-2004) and EMSC Real Time catalogue (2005-today) | Moment Tensors Solutions |