M6.2 IRAN-IRAQ BORDER REGION on August 18th 2014 at 02:32 UTC
Last update: 25 August 2014 at 12:59 UTC
Earthquake details | Aftershocks locations | Intensity map
Send us pictures or videos | Epicenter location
Earthquake details
A earthquake of magnitude 6.2 struck Iran-Irak border region on 18 August 2014 at 02:32 UTC (05:32 Iraq time; 07:02 Iran time) 238 km N of Al Başrah, Iraq, leaving 60 injured according to the local authorities. More information on the main shock is available here. If you have experienced this earthquake, you are invited to answer the online questionnaire. Your testimony will be useful to update the Intensity map here below, where intensities correspond to the effects of the earthquake.
Aftershocks locations and time distribution
The aftershock activity is unusually high. Generally, the largest aftershock is about one unit less in magnitude, so M5-5.2 in this case. The figure shows that on 20/08 at 11:00 UTC we have 5 earthquakes reaching this value, and 4 of them clearly above the maximum expected magnitude in a usual mainshock-aftershock pattern.
There is no clear conclusion to draw from this unusual pattern, and further earthquakes of similar magnitude cannot be excluded.

Loading, please wait...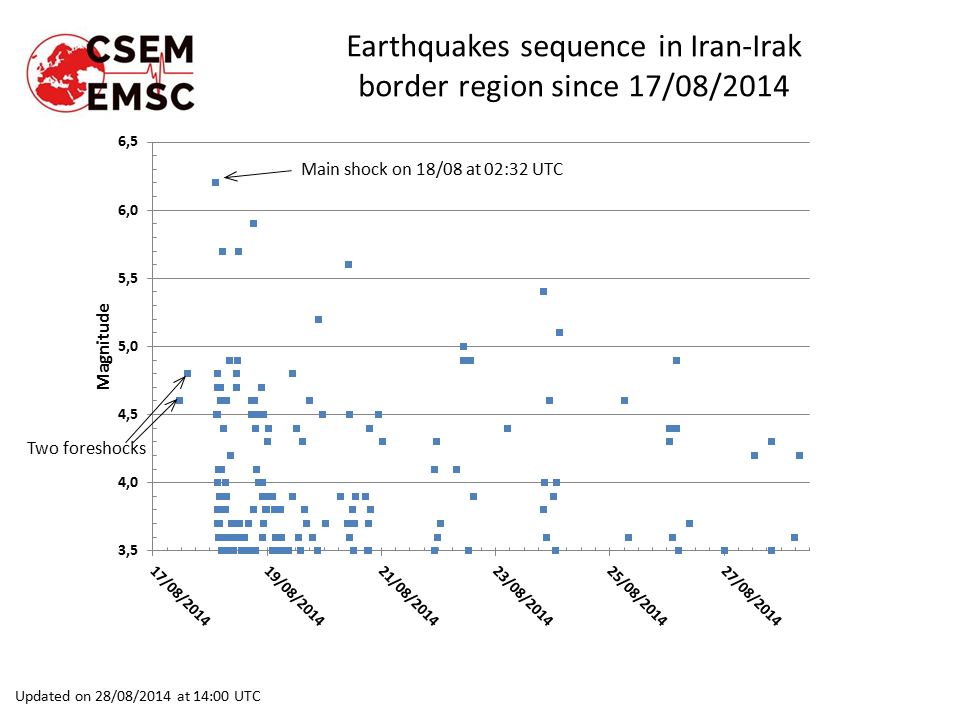 Intensity map
(generated with the results of the online questionnaire)
(click to enlarge)
Send us pictures or videos
You were on the spot and you have taken photos or videos of earthquake effects (on buildings, ground, landscape), please send us your files. Send them by mail or upload them directly from your computer. Just click on the link below :

Send us pictures or videos of the main shock effects
After validation your files will be displayed on this page.
 
Epicenter location
| | | |
| --- | --- | --- |
| Main Shock Epicenter Location | Past Regional Seismicity as from the ISC catalogue (1964-2004) and EMSC Real Time catalogue (2005-today) | Moment Tensors Solutions |