M7.1 PUEBLA, MEXICO on September 19th 2017 at 18:14 UTC
Last update: 16 October 2017 at 13:54 UTC
Earthquake details | Aftershocks locations | Intensity map
Send us pictures or videos | Epicenter location
Earthquake details
A large earthquake of Magnitude 7.1 occurred yesterday 19th of September 2017at 18:14 UTC (13:14 in local time) in Mexico. This earthquake  arrived precisely 32 years after the destructive earthquake of 1985 of Magnitude 8.1 which devastated Mexico city leaving more than 10.000 fatalities. For this reason, several commemoration activities took place yesterday including an earthquake drill only two hours before the earthquake in Mexico City.  
The earthquake occurred yesterday had an epicentre located near to Puebla city and  at 120 kilometers of distance of Mexico City (DF) and its depth was located at 50 km (intraslab earthquake). This earthquake occurred in the context of the subduction zone between the Cocos and North America plates, in a very complex tectonic setting where several plates interact producing a continuous and diverse seismic activity.
At the time of this report, more than 200 causalities have been reported. The collapse of several buildings, including the Enrique Rebsamen school are most dramatic cases. Rescuers and volunteers are still trying to get to survivors under the debris. The EMSC expresses its support to the people affected by this earthquake.

If you have experienced this earthquake, you are invited to answer the online questionnaire. Your testimony will be useful to update the Intensity map here below, where intensities correspond to the effects of the earthquake.
Preliminary reports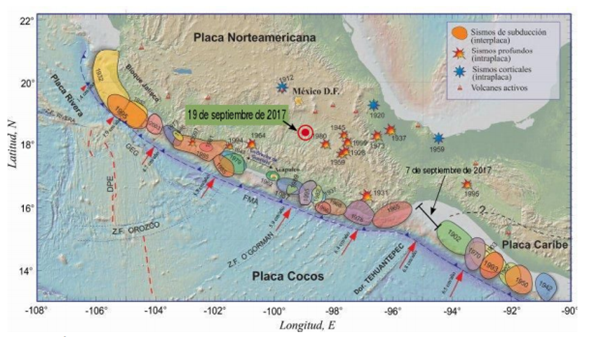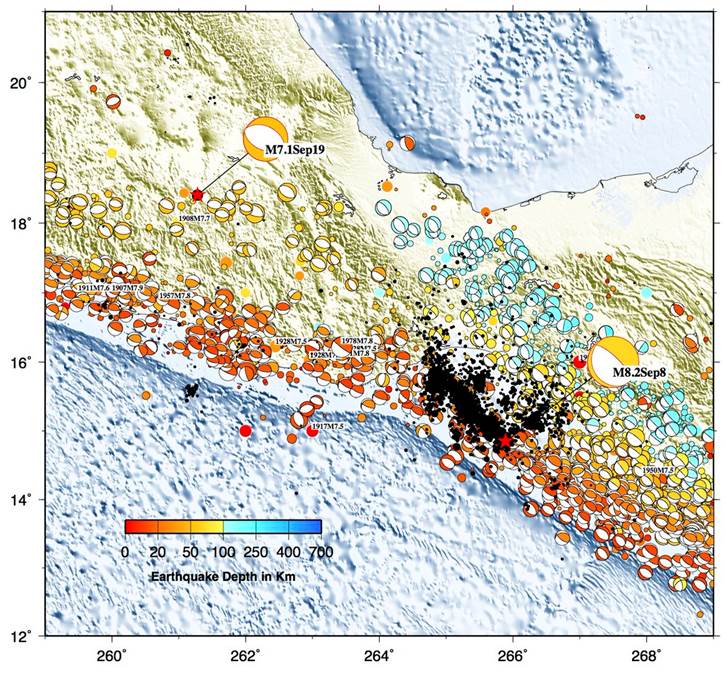 Left: Historical rupture zones for large earthquakes  (National Seismological Service of Mexico Repport)
Right: Historical earthquakes Moment Tensor. The recent two large earthquakes are exagerated in size and the aftershocks highlighted in black (twitter:Jascha Polet) 
Intensity map
(generated with the results of the online questionnaire)
(click to enlarge)
For more information on computation, see the article Bossu et al., 2016:

Thumbnail Based Questionnaires for the Rapid and Efficient Collection of Macroseismic Data from Global Earthquakes, Rémy Bossu, Matthieu Landès, Fréderic Roussel, Robert Steed, Gilles Mazet-Roux, Stacey S. Martin, and Susan Hough. Seismological Research Letter. Oct 2016. doi: 10.1785/0220160120
Furthermore, to avoid the association with wrong events, we filter testimonies in distance and in intensity depending on the magnitude of the seismic event.
Send us pictures or videos
You were on the spot and you have taken photos or videos of earthquake effects (on buildings, ground, landscape), please send us your files. Send them by mail or upload them directly from your computer. Just click on the link below :

Send us pictures or videos of the main shock effects
After validation your files will be displayed on this page.

Loading, please wait...
Epicenter location
| | | |
| --- | --- | --- |
| Main Shock Epicenter Location | Past Regional Seismicity as from the ISC catalogue (1964-2004) and EMSC Real Time catalogue (2005-today) | Moment Tensors Solutions |