M7.3 IRAN-IRAQ BORDER REGION on November 12th 2017 at 18:18 UTC
Last update: 18 December 2017 at 09:19 UTC
Earthquake details | Aftershocks locations | Intensity map
Send us pictures or videos | Epicenter location
In the border region between Iran and Iraq a large earthquake of Magnitude Mw 7.3 occurred on the 11th of November leaving at least hundreds of causalities, thousands of injured and large damages on the epicentral area. The earthquake was widely felt,  we collected more than 1000 testimonies of people distributed on an area over about a 500 km radius (Fig 1).
This earthquake occurred in the collision borders between the Arabian and Eurasian plate on the Zagros mountains (Fig 2). The thrust mechanism of this event is compatible with a fault which  accommodates the convergence of these plates. The shallow depth of its hypocentre explains the intensity of the shaking, as well the possibilities of landslides which may still increase the damages.

             Fig. 1 Felt repports compiled at the EMSC                                    Fig 2: Figure Modified from https://www.climate-policy-watcher.org
                                                                                                                        Moment Tensor from SCARDEC http://geoscope.ipgp.fr/
The regional seismicity is constantly active in the region, however this earthquake is the larger one in the region recorded since the beginning of instrumental seismology on 1960 (Fig3). During its history Iran has been the scenario for very damaging earthquakes, as the case of Bam earthquake of 2003 (Mw 6.5) which killed more than 25.000 people and devastated the epicentral region.
The Iran-Iraq border earthquake was preceded for an event of magnitude 4.3 (foreshock) which alerted the community to leave buildings and had potentially reduced the number of casualties (Fig4). The Iranian seismological centre had also reported many other smaller foreshocks occurred in the epicentral area. Until the moment of this report, more than 200 aftershocks has been recorded, 8 of manitude larger than 4. Many people are out in the cold after the collapse of more than 12.000 homes. Rescue teams are still working in the area. The EMSC expresses its support to the people affected by this earthquake.
Preliminary reports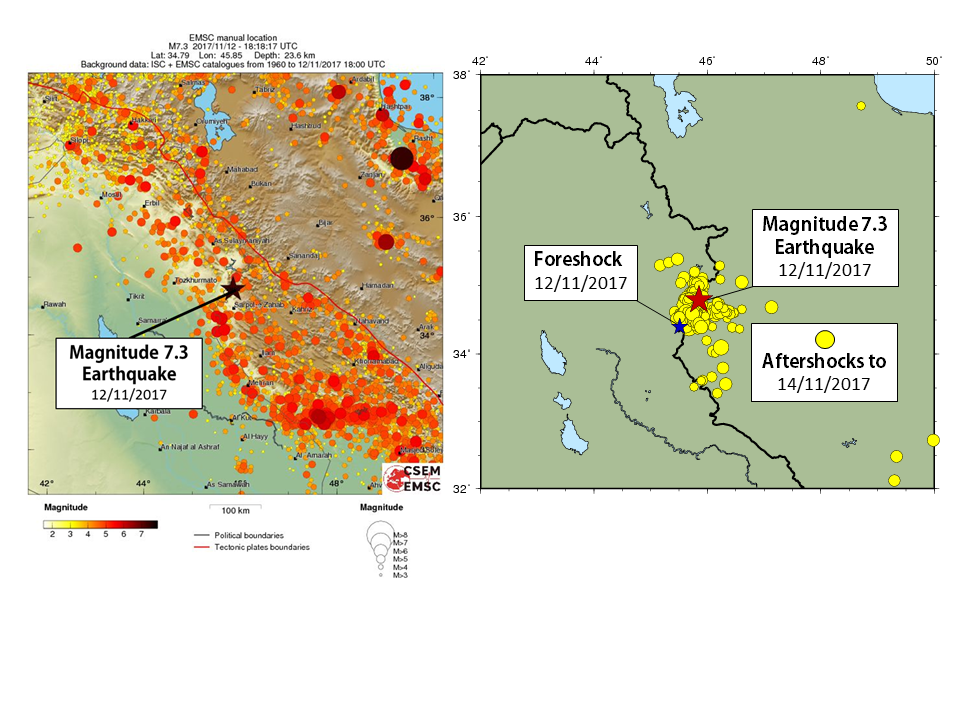 Fig. 3 Regional Seismicity from the ISC catalogue from 1960                     Fig 4. Foreshocks and aftershocks of the Mw 7.3 earthquake
More information on the main shock is available here.

If you have experienced this earthquake, you are invited to answer the online questionnaire. Your testimony will be useful to update the Intensity map here below, where intensities correspond to the effects of the earthquake.
Aftershocks locations

Loading, please wait...
Intensity map
(generated with the results of the online questionnaire)
(click to enlarge)
Send us pictures or videos
You were on the spot and you have taken photos or videos of earthquake effects (on buildings, ground, landscape), please send us your files. Send them by mail or upload them directly from your computer. Just click on the link below :

Send us pictures or videos of the main shock effects
After validation your files will be displayed on this page.

Loading, please wait...
Epicenter location
| | | |
| --- | --- | --- |
| Main Shock Epicenter Location | Past Regional Seismicity as from the ISC catalogue (1964-2004) and EMSC Real Time catalogue (2005-today) | Moment Tensors Solutions |