M7.0 DODECANESE ISLANDS, GREECE on October 30th 2020 at 11:51 UTC
Last update: 11 January 2021 at 08:34 UTC
Earthquake details | Aftershocks locations
Send us pictures or videos | Epicenter location
Earthquake details
An earthquake of magnitude M7.0 hit Greece and Turkey, October 30th 2020 at 11h51 UTC. Seismological information are available here.
At the time of this report, a lot of buildings are damaged and Greece's Samos island is flooded. According to the Guardians 85 victims in Turkey's Izmir city and at least 2 people in the Greek island of Samos. More than 1000 people had been injured in Turkey's Izmir city, and unfortunately many people are still missing.
More than 867 earthquakes have been recorded in the last 3 days that followed the mainshock.
Additional information can found on the Twitter moments [link].
Scientific reports are made available by the seismological community:
Aftershock sequence
| | |
| --- | --- |
| | |
| Aftershock sequence in Dodecanese Islands since  October 30th 2020 at 11:51 UTC. The mainshock is in blue. | Magnitude distribution in time of seismic events within 150 km of the mainshock. |
Maps of felt reports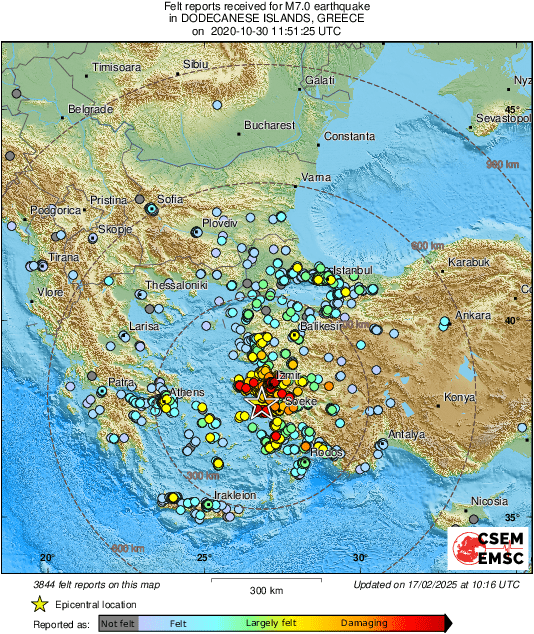 Map felt reports collected for the mainshock.

If you have experienced this earthquake, you are invited to answer the online questionnaire. Your testimony will be useful to update the Intensity map here below, where intensities correspond to the effects of the earthquake.
Aftershocks locations

Loading, please wait...
Send us pictures or videos
You were on the spot and you have taken photos or videos of earthquake effects (on buildings, ground, landscape), please send us your files. Send them by mail or upload them directly from your computer. Just click on the link below :

Send us pictures or videos of the main shock effects
After validation your files will be displayed on this page.

Loading, please wait...
Epicenter location
| | | |
| --- | --- | --- |
| Main Shock Epicenter Location | Past Regional Seismicity as from the ISC catalogue (1964-2004) and EMSC Real Time catalogue (2005-today) | Moment Tensors Solutions |